What are the new NEBOSH IG units called?
– Unit IG1: Management of health and safety
– Unit IG2: Risk Assessment

How many days of review is the new NEBOSH IG?
– For Unit IG1: 4 days
– For Unit IG2: 5 days

What are the entry requirements for NEBOSH IG?
– There are no formal entry requirements BUT we highly recommend to have an introductory courses focused on Occupational Safety and Health such as IOSH & OSHA or NEBOSH HSW

How is the NEBOSH IG assessed?
– For Unit IG1: 45 marks (1 20-mark questions and ten 8-mark questions)
– For Unit IG2: You can only achieve a "Pass or Failed" for the Assessment.

What are the NEBOSH IG Qualification Grades?
– The qualification grade is based on the result from Unit IG1:
• Distinction: 75 marks or higher
• Credit: 65-74 marks
• Pass: 45-64 marks

How long does it take to release the NEBOSH IG results?
– 50 working days. Once NEBOSH issues the result of the second successful unit, the learner will have 20 working days to either: tell NEBOSH in writing that they want to re-sit a SUCCESSFUL unit to improve their grade OR submit an Enquiry About Result (EAR) Policy.

What if I failed the NEBOSH IG EXAMINATION or RISK Assessment?
– For Unit IG1: If the learner failed the unit, learner can schedule with Trainovate™ for the next examination fee. Please take note that there is NO LIMIT of times a learner can re-sit unit(s) within the five-year period. A refund will not be given if the learner register to re-sit a unit before an original unit result is known. If the re-sit result is known. If the re-sit result is lower than the original mark, they will keep the original mark awarded for the unit. Re-sits marks are not capped.

– For Unit IG2: If you need to resubmit, you will need to register for the assessment again and pay the appropriate fee. You are not limited on the number of times that you can resubmit the practical for marking. However, you must remember that both of the units (IG and IG2 must be passed within five year period)

How long can I expect before I receive the certificate?
– 40 working days.

How much will the NEBOSH IG training and exam cost me?
Here is our pricing guide: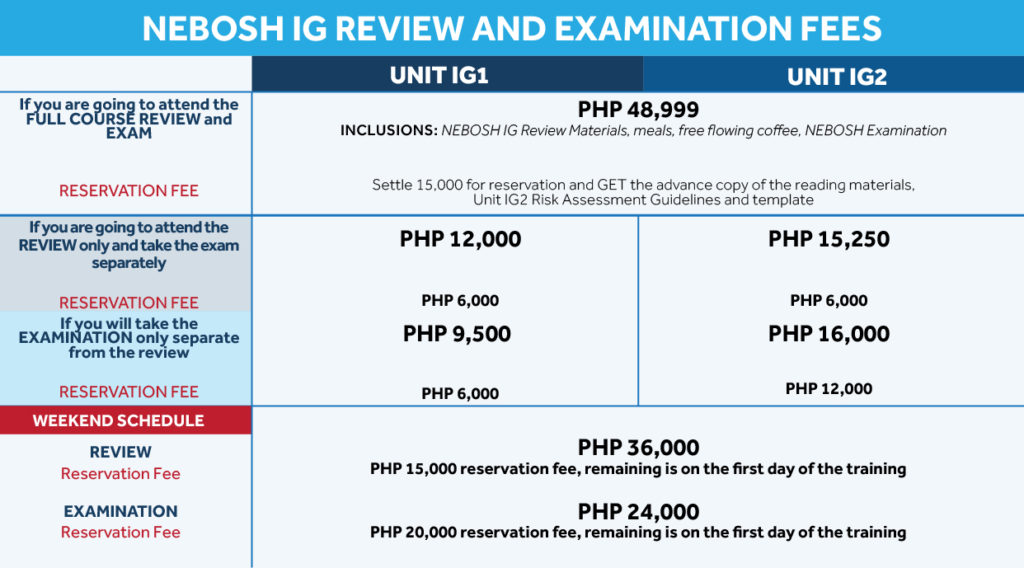 Do you have E-learning?
– We do. Please click here to check our E-learning program.